Denney Auto Sales     April 4  1956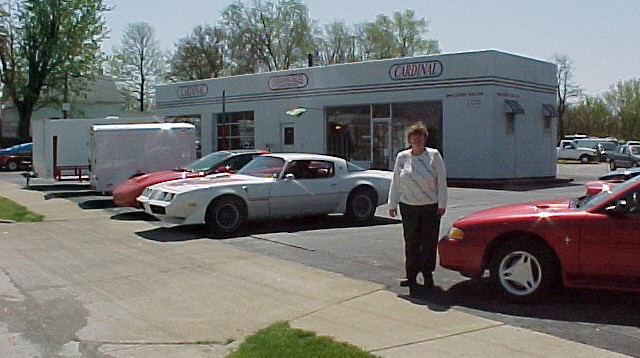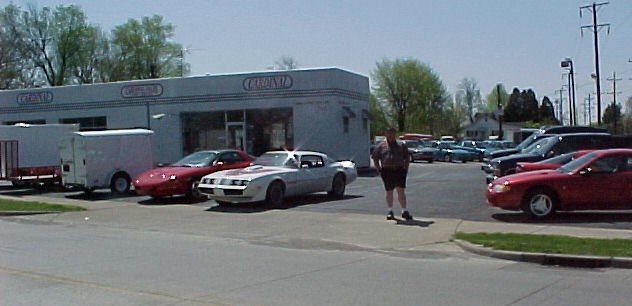 Kathy Denney        4-26-2002

In 1996 I was tired of traveling and opened Cardinal Sales

I  had used Cargo Trailers in my business and decided to sell them.

When I needed one I would try to find a good deal. I try to always remember that everytime I price a trailer to someone.

Roy W. Denney

Clarence on left  Roy on right. Standing in front of 56 Oldsmobile Roy bought  new that year.

Roy Denney January 28, 1931  19 years old. Notice the tie and hat. Said he had been to Church that day and was going on a trip. Grandpa Said he could run like a rabbit then. Hard farm work and no TV then.

We Don't know what kind of car this is. Do you ?

Muncie Auto Auction

Sell Sheet Postcard

Dated June 23

4:30 pm    1954

To Roy Denney

1514 S 18th St.

New Castle ,Indiana

1954 Buick Riv Super  $2800.

1952 Buick Conv.  $1250.

1954 Chevrolet  210 2Dr.  $1535

I Liked art , wood working , camping , Old Cars and swimming . Our Boy Scout troop went to Fhilmont Scout  Ranch in New Mexico one summer. I built Grandfather Clocks and furniture as a hobbie. I aways felt Blessed. Kathy my wife and I ended up working Arts and Craft Shows in Chicago, New York , East coast and Florida. I had a booth making wood Signs , Desk Sets, Company Logos and art work .We had a store at the 1982 Worlds Fair.

Roy Denney was born in Albany Kentucky in 1913. He hitch-hiked to Muncie Indiana in 1936 during the depression. With Minnie and Clarence

2 months old to find work and with only 25 cents in his pocket.

   Roy ended up at Chrysler Corp. Forge Shop in New Castle, Indiana.

He would drive to Kentucky on weekends to visit family. There was a car shortage and he started a taxi  company, and would make runs on weekends to  Albany from New Castle. He had 5-7 cars going back and forth. 300 miles each way.

   Roy started a car Lot in the back yard of his home. Then this lot above next to Chrysler Corp. on south 14th Street in New Castle

  Chrysler Corp. bought him out to expand in 1966.

He built a new GMC Truck Dealership with my dad Clarence in 1966,

Roy had lots of friends, and liked to tell jokes and stories. He liked

people. He would go out of his way to make friends.

Roy went on in 1982.

Denney Auto Sales was started by Roy Denney ( my grandpa ) and with his son Clarence H. Denney in 1947. Clarence retired in 2001


This page was last updated: July 10, 2013